Guest(s) Entering Venue
Current Operating Procedures
READ EVERYTHING AND FILL OUT AGREEMENT ON THEE BOTTOM OF THE PAGE
Pre-Check-in:
Guests and Visitor(s) Entering Venue – Current Operating Procedures Document (THIS EXACT DOCUMENT) Must be read, understood, signed and submitted before admittance (FILL IN INFORMATION AT THE BOTTOM OF THIS PAGE).
You must be on the GUEST LIST to enter. Please submit your request to your Social Sanctuary or Gallagher Staging & Manufacturing Contact via email. You may also submit your request to screening@gallagherstaging.com.
No one under the age of 18 will be permitted access.
No Illegal Drugs, No Weapons, No Pets, No Smoking, No Vaping allowed inside (Service Animals excluded). This is non negotiable. Anyone who fails to abide with these rules will be asked to leave.
Check-in:
Arrive: 14325 Alondra Blvd., La Mirada CA 90638
Arrive no earlier than one (1) hour before set – preferably thirty (30) minutes before stream. No admittance will be granted prior to 1 hour before the stream
BEFORE YOU LEAVE YOUR VEHICLE – Please click here and scan yourself into the screening booth: https://www.gallagherstaging.com/covid-19-safety/
Proceed to check-in "SCREENING" booth, and if you have not checked in, please scan QR coded sign on the screening booth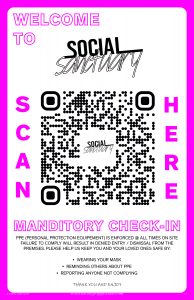 Arrive wearing approved face mask

Will receive gloves and eyewear if needed

Bandanas are NOT sufficient PPE
Masks are required to be worn properly at all times
Temperature taken by qualified screener

Visitor(s)'s temperature, time of arrival, and picture received and inputted into system by qualified screener
Screener and venue will adhere to guidelines created through HIPAA. Information is considered to be sensitive and will not be accessed through public avenues.
Check-in Booth requirements:
Guest(s) are to remain 7ft apart (see signage on floor for designated standing locations)
Guest proceed single file to the check-in booth

Once at the booth, Guests(s) will adhere to the rules provided by the qualified Screener
If Guest does not show signs of COVID 19, artist then proceeds to the interior of venue
If Guest does show signs of COVID 19 (coughing, temperature over 100.4°, shortness of breath, etc.), artist then immediately exits the screening area through the designated area

It is important for the Guest not to exit testing area through the initial entrance as others could potentially increase their chances of exposure to COVID 19 or COVID 19 symptoms
If required, check-in personnel will provide artist(s) with any additional PPE, Personal Protective Equipment

If PPE, Personal Protective Equipment, does not fit or work for the guest, the guest will dispose of the equipment in the Biohazard bin provided
Inside the venue:
Liaison greets guest(s) at check-in booth and escorts guest(s) to assigned approved areas

In greenroom, liaison reiterates venue guidelines (posted on wall near door) to guest(s)

Liaison shows guest(s) designated restroom(s)
Liaison introduces other crew members to help ensure guest(s) safety – crew members

While in the venue, guest(s) will adhere to all social distancing rules:

Remain seven (7) feet apart from all workers, artist(s), and guest(s)
Wear all required all PPE (Personal Protective Equipment)
Wash hands frequently (if applicable)
Follow all posted signs to ensure the safety of you and those around you
Show Time:
Fifteen (15) minutes prior to artist(s) taking the stage, the liaison will escort guest(s) to viewing area
After Show:
Upon set completion, guest(s) are escorted by liaison stage out of the venue